Wichita's Heating and Cooling Professionals since 1988!
100% Satisfaction Guarantee
Heating and cooling isn't a one-size-fits-all industry. At Fenix, we work with you to find the best solution for your family.
Upfront Pricing
We offer dedicated service, not commission-based sales. We won't talk you into repairs you don't need or surprise you with hidden fees.
From Our Blog
One Wichita Homeowner's Modern Solution to Improving Home Comfort July 2019 Gary's story is a lot like many homeowners across Wichita. For decades, he and his wife have been living in their ranch home in a west Wichita neighborhood. These houses were built in 1992, within the Chadsworth subdivision, and they were some of the first people to move in. Gary and his wife remember the nearby 21st street before New Market Square was built, well before it became one of the most high-traffic areas in the state. They've maintained their home with updates and repairs as needed and will continue doing so far decades to come. Gary and his wife are invested in their home, which includes paying attention to any signs of problems before real disasters strike. That's what happened in the summer of 2019. Gary and his wife realized that their air conditioning system was having a hard time keeping up with a particularly hot week here in Witcher. Not only was their current AC working harder to keep the house cool, but it was also leaking refrigerant. Gary knew it was time to upgrade, so he and his wife reached out to three Wichita HVAC companies…
A Dangerous Furnace Problem that Can't Be Ignored What Causes a Heat Exchanger to Crack? The main reason why a heat exchanger becomes cracked is due to the unit overheating. If the furnace isn't getting sufficient airflow, the exchanger gets too hot and literally cracks under the pressure of continual expanding and contracting. A reason why the airflow may have become limited is because of a dirty air filter. This is another great reason why keeping your furnace filter clean is the single most important thing you can do as a homeowner. It is a relatively cheap maintenance step that goes in incredibly long way from preventing such serious problems as cracked heat exchangers. Other issues, like a too large or too small furnace or ductwork, can also cause heat exchangers to crack. How Bad of a Problem is this? This is a potentially serious furnace problem. A crack in this part of your furnace could allow exhaust gas to escape your heating unit, allowing carbon monoxide to seep into your home. This damage causes such a potential hazard that if a crack is found, you should not turn on your furnace again until it is fixed. Sometimes a professional…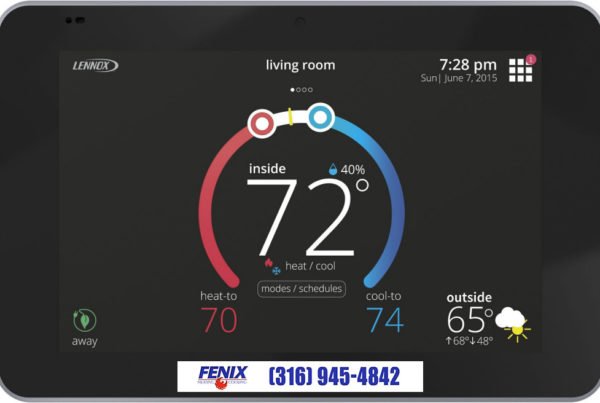 The one thing you need to do before buying a programmable thermostat for your home A new thermostat can improve the comfort of your home The great technological improvements in thermostats means you have many wonderful, modern options to make keeping your home comfortable and energy efficient. There are even programmable thermostats that you can control from your phone. And the ability to buy one yourself is very easy. From Amazon to big-box DIY stores to little hardware stores in and around Wichita, you will find a wide array of thermostat options to help keep your heating and cooling levels and costs under your control. When thinking about which thermostat to buy, you may be factoring in such things as the ease of use or the cost. But there is ONE VITAL FACTOR you need to consider before anything else, and that is whether the thermostat is compatible with your existing heating and cooling system. A new thermostat can destroy your heating and cooling system Not all thermostats work with all HVAC systems. In fact, installing a programmable thermostat that does NOT work with your system could actually destroy it. Not only that, replacing your thermostat with a non-compatible one…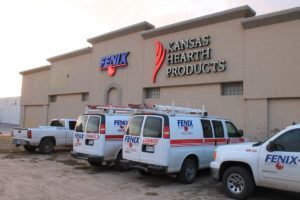 Trust the Fenix Comfort Heroes to rescue you from your heating and cooling problems. Don't wait until the first day of winter to discover your furnace is not working! Turn it on today. If it's not running properly, contact us and we'll work to get your system fixed before the first frost.
Join the Fenix Protection Plan Service Program today! You'll receive some nice benefits, like 20% off all parts and labor and having the peace of mind to know that your HVAC unit is being serviced by the best comfort specialists in Wichita!
Visit our showroom to see all our trusted products on display at 802 West 2nd St., just across from Wichita's new library, or give us a call at 316-945-4842.
Be sure to check out our current promotions to get the best deal on meeting your comfort needs!
"Everyone was great! Phillip's first service call was a big reason we decided to have Fenix do our new furnace and A/C. Diane was great on the phone, Cory was wonderful with his presentation and no-pressure sales style and Jason was great too. I had no idea it would be so easy to do such a huge job!!"

Melvin & Teresa Consell
"Very professional in all aspects. Cory, Don & Phil did an excellent job of explaining all aspects of the equipment's operation. The clean up after was thorough and they took care not to damage anything in the process. We are very happy with the Lennox Products chosen and enjoy the almost. silent operation of the system. it has been our pleasure to know and work with each of these men. They all went the extra mile for us. Thanks"

Dan & Karen Tevis
"Cory was very patient and worked without out hectic schedule. The installers took care to cover my carpets before work and the inspector of the job said they do very good work"

Drew & Doris Leslie
"Cory did a great job explaining different equipment options; he was very prompt and worked with us on setting up duct cleaning (he called and arranged the service with another company). CJ and Phillip were very professional and did a very good job installing/fabricating all parts. Each person involved with this job took the time to explain features of the new system and gave advice on how to best use the system. I greatly appreciate the professionalism and service I received from Fenix. Thank you!"

Mason Robbins
"Phillip & Don did an excellent job and we are very satisfied with our new furnace. Cory was very good to work with also. Mark has done an excellent job for us as our service technician since we have lived here."

Brett Miller
"On a scale of 1 to 10, the installers were a 12 1/2. The same is true of Cory & Luke. We selected Fenix out of four vendors, whom we had for estimates"

Terry and Mary Carney
Complete new system. 1 day installation and running fine. install crew was professional and used drop cloths in and around work area to keep work area relatively clean. No complaints for me so far. If you do some homework a lot of problems are not the system but the installation especially if its troubles out of the box. Happy with Fenix with the way I was treated.

Joe
Cory did a great job discussing Lennox products, options, pricing and financing during the initial visit. His team did an outstanding job installing the system in one day. We are very happy with our purchase and now saving money every day on cooling costs, just in time for the summer temperatures.

Erin
The guys at Fenix are awesome. Good people you can count on. Not high pressure or pushy!

Matthew
"ALL WERE TERRIFIC! I know quality when I see it! They were professional, courteous, timely and very knowledgeable. I will recommend Fenix to all my friends and the Lennox product is unbelievable!"

Luis & June C