About Fenix Heating and Cooling
Opening its doors 30 years ago, Fenix Heating and Cooling has grown from a three-man startup operation to one of the most prominent HVAC companies in the Wichita area.
Experience
Now, with more than 30 employees and 25 techs in the field, Fenix is set apart by its skilled team of long-term comfort specialists. With many techs celebrating 10+ years at Fenix, the team is proud to offer abundant knowledge of their industry and their products. This means that the team at Fenix is able to offer the very best solutions to your residential and light to medium commercial HVAC problems.
We're Here to Solve Your Problems, Not to Break the Bank.
At Fenix, it's not about dollars and cents, it's about building lasting relationships with our clients. If you have a concern about your HVAC unit, our team would love to help you solve your problem over the phone at no cost to you. The in-office experts at Fenix Heating and Cooling have years of experience with troubleshooting and are familiar with HVAC problems, from common to complex. Though not all jobs can be completely taken care of by phone, we're happy to discuss your situation and offer a free estimate if necessary. Call us at (316) 945-4842 or contact us to learn more!
We Practice What We Preach
Our offices run solely on the Lennox HVAC units we install, and we wouldn't have it any other way. We've been in the heating and air business for decades, so we know quality when we see it. By using Lennox ourselves, we demonstrate our confidence in these systems.
We Allow You to Try-Before-You-Buy in our Unique Wichita Showroom
The unique design of our beautiful showroom features exposed, running units. Stop by any time to see, hear, and touch a Lennox, for a unique try-before-you-buy experience that you won't find anywhere else. We're located at 802 West Second Street, just west of beautiful downtown Wichita Kansas.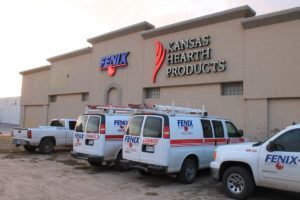 Trust the Fenix Comfort Heroes to rescue you from your HVAC problems. Don't wait until the first day of winter to discover your furnace is not working! Turn it on today. If it's not running properly, contact us and we'll work to get your system fixed before the first frost.
Join the Fenix Protection Plan Service Program today! You'll receive some nice benefits, like 20% off all parts and labor and having the peace of mind to know that your HVAC unit is being serviced by the best comfort specialists in Wichita!
Visit our showroom to see all our trusted products on display at 802 West 2nd St., just across from Wichita's new library, or give us a call at 316-945-4842.
Be sure to check out our current promotions to get the best deal on meeting your comfort needs!