When it comes to heating and air conditioning, there are a few really strong brand names in the industry. While many contractors sell multiple, well-known systems, it's hard to compete with the expertise that comes with specializing in one particular brand. Fenix Heating and Cooling is the only Lennox Premier Dealer in Wichita, meaning we carry a full line of Lennox—and only Lennox—products. Here are 10 reasons that this offers a direct benefit to our customers.
As a Lennox Premier Dealer – We Stand by Our Products
When you're in need of a new HVAC unit, you want to know that you're getting the very best. Contractors carrying multiple brands cannot fairly and definitively say that the product they are promoting is the best option, as this would hurt sales of their other systems. At Fenix here in Wichita, we know what's best and we settle for nothing less. By carrying only Lennox units, we can assure our customers that they units we install are the best out there, and we're proud of that.
We Lead by Example
Would you buy a Chevy from a salesman that drives a Ford? Of course not. At Fenix, we're happy to show customers the exposed Lennox system that controls the climate in our offices. This unique arrangement allows you to come in to see and hear what a working system is like, offering a try-before-you-buy experience you won't find anywhere else. We've been in the heating and air business for decades, so we know quality when we see it. By using Lennox ourselves, we demonstrate our confidence in these systems. Stop by our Wichita showroom anytime to see what you're missing!
We're Elite
Lennox is not a distributor that sells its products to just anyone. In order to purchase from Lennox, you must be an approved Lennox dealer, and this status comes with some stringent requirements. Committed to professionalism, stability, and excellent service, Lennox makes sure that the dealers that they support carry out these essential values. Only the best can offer Lennox products, so customers who work with Lennox dealers can rest at ease, knowing that the team working in their home is one of unmatched quality.
We Know the Drill
When it comes time for maintenance or repair, our highly-trained staff knows what to do. When you work with our technicians, who have worked exclusively with Lennox systems for over 20 years, you'll know you're in good hands. The Fenix team can quickly and easily diagnose and repair your system without cracking open a manual to see which type of unit they're working on. Instead, they'll have the specialized knowledge and experience to get the job done right.
We Value Education
For Lennox, being the best isn't enough. The company ensures that its dealers remain the best by offering the continued education courses necessary to do so. As technology increases, so do the capabilities of Lennox systems, and our technicians receive the continual factory training they need to stay ahead of the curve and are NATE certified. So if you're looking for a Lennox dealer to service your Wichita home, give us a call at 316-945-4842!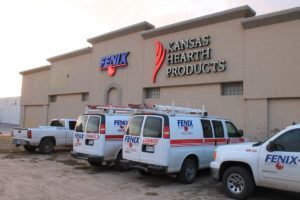 Trust the Fenix Comfort Heroes to rescue you from your HVAC problems. Don't wait until the first day of winter to discover your furnace is not working! Turn it on today. If it's not running properly, contact us and we'll work to get your system fixed before the first frost.
Join the Fenix Protection Plan Service Program today! You'll receive some nice benefits, like 20% off all parts and labor and having the peace of mind to know that your HVAC unit is being serviced by the best comfort specialists in Wichita!
Visit our showroom to see all our trusted products on display at 802 West 2nd St., just across from Wichita's new library, or give us a call at 316-945-4842.
Be sure to check out our current promotions to get the best deal on meeting your comfort needs!