The one thing you need to do before buying a programmable thermostat for your home
A new thermostat can improve the comfort of your home
The great technological improvements in thermostats means you have many wonderful, modern options to make keeping your home comfortable and energy efficient. There are even programmable thermostats that you can control from your phone. And the ability to buy one yourself is very easy. From Amazon to big-box DIY stores to little hardware stores in and around Wichita, you will find a wide array of thermostat options to help keep your heating and cooling levels and costs under your control.
When thinking about which thermostat to buy, you may be factoring in such things as the ease of use or the cost. But there is ONE VITAL FACTOR you need to consider before anything else, and that is whether the thermostat is compatible with your existing heating and cooling system.
When a thermostat can destroy your heating and cooling system
Not all thermostats work with all HVAC systems. In fact, installing a programmable thermostat that does NOT work with your system could actually destroy it. Not only that, replacing your thermostat with a non-compatible one may void any warranties you have on your HVAC units. So that means the great deal you may have gotten on a new thermostat will end up costing you thousands of dollars in replacement or repair of your furnace and/or air conditioner. Contact us at Fenix in Wichita before you buy a thermostat. We can help you be sure you're getting a thermostat that will work properly for your home.
How can you know which thermostat is right for your home?
There are some fundamental things you would need to know about your home's HVAC system before you should even begin shopping for a programmable thermostat. These include such things as whether your system is gas or electric and if it operates at a one-stage or two-stage speed. Because there is a real risk of destroying your home's entire heating and cooling system by making a mistake on knowing which thermostat will work, our main piece of advice is for you to rely on an HVAC professional to tell you what system you have and what types of thermostats could be used for it.
Bottom line: call us. Our skilled Fenix technicians would be more than happy to help you determine the information you need to know so that you can avoid making a very avoidable, yet incredibly costly, mistake.
Lennox® Brand Thermostats
As a Premier Lennox Dealer, Fenix technicians regularly install a variety of quality programmable thermostats to give homeowners the best control over their home's comfort levels and energy consumption. Check out the variety of thermostats we provide. Feel free to stop by our Fenix showroom to see and play with these thermostats to see which will be the best one for your home.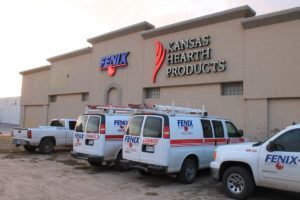 Trust the Fenix Comfort Heroes to rescue you from your HVAC problems. Don't wait until the first day of winter to discover your furnace is not working! Turn it on today. If it's not running properly, contact us and we'll work to get your system fixed before the first frost.
Join the Fenix Protection Plan Service Program today! You'll receive some nice benefits, like 20% off all parts and labor and having the peace of mind to know that your HVAC unit is being serviced by the best comfort specialists in Wichita!
Visit our showroom to see all our trusted products on display at 802 West 2nd St., just across from Wichita's new library, or give us a call at 316-945-4842.
Be sure to check out our current promotions to get the best deal on meeting your comfort needs!