Summers in Wichita can be blistering. It's best to make sure that your outdoor AC unit is in tip-tip condition and not covered in leaves and other debris. Such buildup can cause it to lose efficiency and cost you money. One of the easiest ways to maintain your AC, especially if you haven't done so all year, is by cleaning your outdoor ac unit. Only the comfort specialists here in Wichita at Fenix can check your coolant levels which you should certainly have done at the start of each summer – just give us a call at 316-945-4842. But anyone can clean their own outdoor AC unit. It's simple, and typically takes no more than an hour.
Turning off the Power to Your Outdoor AC Unit
First, start by turning off the power to your AC. The last thing you want is a nasty electrical shock. Most outdoor units have an outdoor shutoff, typically just a few feet away. Open it up and either remove the block or flip the breaker to off. Older electrical wiring might even have a fuse – just unscrew it. If you don't have an outdoor shutoff, you can turn off the unit at the main electrical breaker. It should have been labeled by your electrician, but if not, a little trial and error can help you track down which it is.
With the power off, now's the time to vacuum out the outer portion of your AC, the fins, with a soft brush. Be careful not to damage them – they can easily be bent or crushed. There may be a metal casing surrounding these fins to protect them from the elements. Consult a user's manual for instructions on how to remove it. Typically, this involves just removing a few screws, but as you're lifting the case, be careful not to bump the fins.
Cleaning Outdoor AC Unit's Fins
As you clean the fins, you may find that some of them are bent. Large groups of bent fins should be straightened by a Wichita comfort specialist here at Fenix during our next service call, but if there are any minor damage, you can correct those with a thin blunt object, such as butter knife or nail file. If there are any fins that are more drastically bent, you can buy a fin comb from a local home improvement store to help move them back into position. Once you've dealt with your fins from the outside, it's time to clean them from the inside.
This will involve removing the fan by first unscrewing the grating at the top. There will be a line of writing connecting the fan to the rest of the AC unit, so you may not be able to set it aside. In this case, a helper can hold it while you hose down the inside. Just don't yank at the wiring too hard, or you could damage the unit. If any leaves or debris have made their way inside this AC, this is the time to remove them.
How to Properly Clean your AC with a Garden Hose
Afterward, hose the fins from the inside facing out, making sure that you don't spray too hard as to avoid bending any of them. Low to moderate pressure should do nicely. After hosing the fins, this is a great opportunity to check if your unit needs oil. Some don't take oil at all – they have closed bearings on the inside. Some AC models, however, have ports for oil. Just add a few drops of motor oil, not penetrating or all purpose; these kinds can damage the bearings.
Once you're done cleaning your outdoor AC unit, it's time to put everything back together and enjoy a more efficient AC unit! If your AC is still not cooling very efficiently, then the coolant may be low. Don't wait until the first day of summer to turn on your AC! That's what everyone else does. Turn it on today – right now. Test it early to avoid a lengthy wait when you discover that every HVAC company in Wichita is booked for weeks! If anything is the matter, our Wichita ac technicians can be quick to handle any type of air conditioning repair. Just give us a call at 316-945-4842 or contact us today!
Sign up for Fenix's Protection Plan maintenance program. We will professionally handle the cleaning, tune-ups and maintenance service your entire HVAC needs.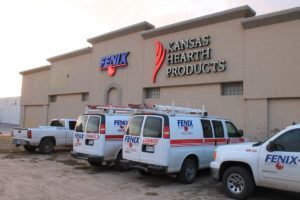 Trust the Fenix Comfort Heroes to rescue you from your HVAC problems. Don't wait until the first day of winter to discover your furnace is not working! Turn it on today. If it's not running properly, contact us and we'll work to get your system fixed before the first frost.
Join the Fenix Protection Plan Service Program today! You'll receive some nice benefits, like 20% off all parts and labor and having the peace of mind to know that your HVAC unit is being serviced by the best comfort specialists in Wichita!
Visit our showroom to see all our trusted products on display at 802 West 2nd St., just across from Wichita's new library, or give us a call at 316-945-4842.
Be sure to check out our current promotions to get the best deal on meeting your comfort needs!