Importance of a Fall Furnace Tune-Up
We are heading into another Kansas winter. And as we all know, it's hard to predict what could happen. Will we get significant snow? Could we have an ice storm? Will your furnace die on the coldest night in Wichita?
Unfortunately, that is a problem that is bound to happen to some Wichita area homeowners this winter. Their heating system will break down right when they need it most. While you can always call on Fenix Heating & Cooling for a quick furnace repair, we want to help you avoid this heating disaster from ever happening to you.
Maintenance of your heating system is an important step in keeping it working at peak efficiency. This work also helps to identify little problems before they turn into big, expensive problems. Our Fenix team of heating experts handles routine heating and cooling maintenance for homeowners who have signed up for our Protection Plan. We also provide individual seasonal maintenance checks.
Fortunately, there are several maintenance steps homeowners can do on their own, and we want to make sure you know about a very important step you should do this fall to avoid a heater emergency.
Preventing a Winter Emergency
Waiting until the first cold day of fall or winter is the wrong time to first turn on your heater. If you find out during a southern Kansas cold snap that your furnace is not putting out warm air, then you may be left in the cold for quite some time.
You won't be the only person calling for a professional heating repair technician when it first gets cold. There are probably thousands of other people who have also just turned on their furnace for the first time of the season. Even if just a small percentage of those Wichita area homeowners uncover some problem with their heater, that still leaves a lot more homes without heat than there are qualified heating technicians to service them.
By doing one simple thing now, in the autumn, you could avoid this headache altogether.
Give Your Furnace a Test Run
The one simple thing to do is to turn your heater on. Change your thermostat settings so that your heating system kicks on and begins pushing warm air through your vents. Be sure that you set your thermostat to heat AND that you set the temperature to be at least a few degrees above the current temperature.
It might feel weird to set your thermostat to 80 or higher, but this will be temporary. A test to make sure your heating system is properly heating your home should not take a lot of time. You will be able to put your thermostat to regular settings soon enough.
If you don't feel warm air coming out from your vents, you may have a problem on your hands. First, be sure that you've given it sufficient time for your HVAC system to switch to heating your home. You may need to ensure that your pilot light is lit.
If your system isn't working and you can't troubleshoot the problem yourself, give Fenix a call for quick heating repair service. If you catch the problem early in the season, you can expect one of our expert technicians to be out there well before you need your furnace to work.
Fenix Heating Repair – (316) 945-4842
If your system is turning on and producing heat, be sure to allow it to continue heating for a bit of time. You will want to listen to your system for any odd or loud sounds. Weird noises from an HVAC system may mean something is loose, broken or about to break. Another issue you can check for is short cycling. If your system turns on but then turns off before your home reached the temperature setting, that is a sign your heater has a problem. Contact Fenix for service if you experience either of those situations.
Fenix's Fall Furnace Tune Up
To make sure your home's heating system is in great working order, call on Fenix to handle the task of fall furnace maintenance. With our professional service, you can rest assure your entire system and all related components will be thoroughly checked and, when necessary, cleaned and tuned up to work at peak efficiency all winter long.
From changing air filters to checking the duct work and electrical connections, our maintenance work will also ensure your system is working safely. With dangerous issues that can lead to carbon monoxide poisoning, our technicians are careful to inspect all components for any leaks, cracks, or signs of wear.
I have been using Fenix for about 10 + years and they have always taken care of me very well. I am on their annual service plan which certainly pays off when something has gone wrong on my unit. All the guys have been professional, knowledgeable, and friendly each visit. They just installed an entire HVAC unit and did with professionalism and no mess for me to clean up! I will continue to use Fenix and recommend them to anyone needing HVAC services!!
-Cindy Christian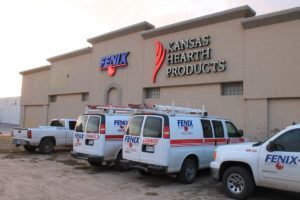 Trust the Fenix Comfort Heroes to rescue you from your HVAC problems. Don't wait until the first day of winter to discover your furnace is not working! Turn it on today. If it's not running properly, contact us and we'll work to get your system fixed before the first frost.
Join the Fenix Protection Plan Service Program today! You'll receive some nice benefits, like 20% off all parts and labor and having the peace of mind to know that your HVAC unit is being serviced by the best comfort specialists in Wichita!
Visit our showroom to see all our trusted products on display at 802 West 2nd St., just across from Wichita's new library, or give us a call at 316-945-4842.
Be sure to check out our current promotions to get the best deal on meeting your comfort needs!