How to Lower Your Heating Bill
During the frigid Wichita winter months, you and your family likely has but one concern: to stay warm. But after one month of cranking up your heater to reach that goal, you may take a look at your heating bill and decide that perhaps it's better to freeze.
Fear not, the comfort specialists here at Fenix Heating & Cooling have some tips to help you save money on your energy bill and still stay warm. If you have any questions about any of these tips, or perhaps you have some of your own that aren't on this list, feel free to give us a call at (316) 945-4842.
Lower your thermostat when you don't need it
If you ever leave the house for an extended period of time, and nobody is home to benefit from that warmth, lower your thermostat by 10-15 degrees. That will keep your house reasonably warm, so you don't walk into an igloo when you return home, but it will help to save plenty of energy and monthly heating costs.
Also consider lowering your thermostat at night. No, we don't expect you to freeze while you sleep. What kind of comfort specialists would we be if that was our advice? But you'll still keep warm by lowering your thermostat at night and bundling up with warm comforters and flannel blankets. It may be a little chillier when you wake up in the morning, but lowering your thermostat during those hours spent sleeping will truly help.
Manage your airflow.
You'd be surprised by how much more efficient a home with proper ventilation and airflow is. As we all know, hot air rises, so ceiling fans can be great to push that warm air back down to where you are. This extends to any room with an exhaust fan. These can be great to allow for better warming in those rooms when you're using them, but leaving them running will only serve to cost you more money. Speaking of rooms you aren't using…
Maintain Your Furnace
This doesn't necessarily mean scheduling one of Fenix's heating specialists to come out and take a look at your furnace, but that's always an option as well. Here, we're specifically talking about taking the little steps to ensure that your furnace is working at peak efficiency. Ensure that nothing is blocking any of the vents, and keep the filter maintained. If it's a replaceable one, replace it every few months as directed, and if it's a reusable filter, take it outside, give it a good rinse, and vacuum out the more troublesome dirt and dust.
Utilize Solar Energy
Even though the sun is 92.96 million miles away, its warmth can still be felt even on the coldest winter days. Taking advantage of our very own sun can prove to be quite beneficial when it comes to lowering your heating bill. Simply open up the drapes or curtains when the sun is shining to help out, and when the sun passes overhead, close them to keep the cold out.
Humidify
Cold air is dry air, and moist air not only feels warmer, it also holds heat better as well. A humidifier can work wonders in keeping a house warm without stressing your heater or your heating costs. House plants are also great and helping to keep the air humidified.
Insulate to Keep the Heat in Your Home
Any heat that's lost through any uninsulated parts of your home goes straight into your heating bill. There are cheap insulation alternatives at your local home improvement store that can help fill those cracks and keep the head in your home. How to lower your heating costs could be as simple as weather stripping for your doors and windows is a great place to start. They're easy to install and cheap to buy.
Bundle Up
This is perhaps the easiest way on how to lower your heating bill. The more clothes you're wearing, the lower you can keep your thermostat. So slip on that nice winter sweater, or a pair of thick cotton socks, and keep warm.
As always, the comfort specialists at Fenix Heating & Cooling are here for your every possible need. Just contact us, or give us a call at (316) 945-4842 if you've got any questions or would like to know more about keeping your house warm and your heating bill low.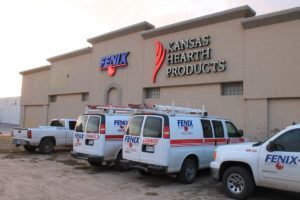 Trust the Fenix Comfort Heroes to rescue you from your HVAC problems. Don't wait until the first day of winter to discover your furnace is not working! Turn it on today. If it's not running properly, contact us and we'll work to get your system fixed before the first frost.
Join the Fenix Protection Plan Service Program today! You'll receive some nice benefits, like 20% off all parts and labor and having the peace of mind to know that your HVAC unit is being serviced by the best comfort specialists in Wichita!
Visit our showroom to see all our trusted products on display at 802 West 2nd St., just across from Wichita's new library, or give us a call at 316-945-4842.
Be sure to check out our current promotions to get the best deal on meeting your comfort needs!