Winter has almost passed us by, but it's still important to have an efficient and properly maintained furnace to keep you warm through these last few weeks of Wichita nights. One of the easiest places to begin – especially if you haven't replaced it all winter – is the filter.
And as one of our owners, Cody Curl, likes to say, "Keeping your furnace filter clean is the single most important thing you can do as a homeowner."
Virtually all furnaces (and ACs, too, for that matter) have a cardboard filter that must be replaced a few times a year. Not doing so will cause it to accumulate dust and debris, reducing its airflow as well as your furnace's efficiency.
You'd be surprised by how many calls we here at Fenix have received from a customer who's furnace just isn't heating as well as it should, and the solution was as simple as running down to the nearest home improvement store here in Wichita and grabbing a new filter.
Locating Your Filter
Replacing your furnace's filter begins with finding it, and before doing that, or anything with your furnace, it's highly recommended that you turn off the furnace at the circuit breaker, or if there's a switch nearby, you can turn it off there as well. But if you're going to be rooting around in your furnace, for a filter or otherwise, the last thing you want is a nasty electrical shock.
As a Lennox Premier Dealer, any of the furnaces we've installed here at Fenix will, of course, be a Lennox model. In these units, the filters are typically located in either the blower compartment of your furnace, in an attached filter case, or in a wall-mounted return air grill. But if your furnace isn't a Lennox model, fear not, the comfort specialists here at Fenix won't be leaving you out in the cold – it's not our way.
The filter for virtually all furnace models is located within the blower compartment, and if it's not there, check the return air vent. No matter where it is, it should be easy to spot; there will be a slot and some cardboard. If you discover that your filter is actually bigger and bulkier, and likely not even made of cardboard, then stop there. Your filter is actually permanent and can simply be washed out with a hose, or blown out with an air compressor – if you have one of those. Just be sure that
you don't accidentally throw it away thinking that it is disposable.
Removing the Filter

For the rest of us, though, remove the cardboard filter. It should likely be either 1 or 5 inches. The 5-inch ones do provide better air filtration, but they require
the furnace to be modified if they're installed with the 1-inch in mind. Fenix can help with this! Just give us a call at 316-945-4842 and we can talk about upgrading your furnace to accommodate 5-inch filters.
Now, inspect your filter and take note of arrow printed in it; this signifies the direction of the airflow, and as such, which way the filter should be inserted. If you're worried you won't remember, take a sharpie – or a piece of electrical tape, or anything really – and mark the side of your furnace that the arrow was on. If you put the new filter in backwards, it will block the airflow, and this can create a whole new set of issues.
Once you've removed your filter, there should be a size printed on the cardboard, such as 16×20, or 20×25. This is the size of your filter, and what you need to keep an eye out for when purchasing a new one, either online or at a local home improvement store here in Wichita. Once you've attained your new filter, just insert it back into your furnace, making sure that it's pointing the right direction, and you'll be good to go.
Fenix is fully equipped to handle all manner of HVAC problems for residential homes as well as commercial businesses. If anything's the matter, from a rumble to a frozen AC, give our comfort specialists a call at 316-945-4842, or contact us today! Also, Join the Fenix Protection Plan Service Program today! You'll receive some nice benefits, like 20% off all parts and labor, and best of all – you'll have the peace of mind to know that your HVAC unit is being serviced by the best comfort specialists in Wichita!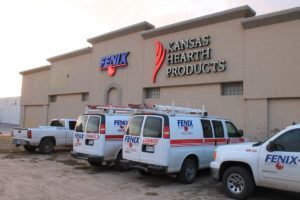 Trust the Fenix Comfort Heroes to rescue you from your HVAC problems. Don't wait until the first day of winter to discover your furnace is not working! Turn it on today. If it's not running properly, contact us and we'll work to get your system fixed before the first frost.
Join the Fenix Protection Plan Service Program today! You'll receive some nice benefits, like 20% off all parts and labor and having the peace of mind to know that your HVAC unit is being serviced by the best comfort specialists in Wichita!
Visit our showroom to see all our trusted products on display at 802 West 2nd St., just across from Wichita's new library, or give us a call at 316-945-4842.
Be sure to check out our current promotions to get the best deal on meeting your comfort needs!