Common Ductless Problems and Proper HVAC Maintenance
Ductless mini splits are great modern HVAC systems that provide both the heating and cooling for homes, offices, and other areas. They are excellent choices for many spaces, especially when it's not possible or feasible to install ductwork.
Fenix Heating & Cooling are professional installers of ductless mini split systems here in the Wichita area. We also provide repair and maintenance services for these units. Sometimes we are called out to handle a repair on a ductless unit that could have been prevented.
Just as a traditional furnace or air conditioner needs regular maintenance, especially regular air filter changes, a ductless mini split requires maintenance. A dirty mini split causes several problems, including hurting your indoor air quality.
Is There Mold in Your Mini Split?
Having mold in your ductless mini split unit is a disgusting problem, and unfortunately, a rather common one. Ductless Mini Split systems can be filled with dirt, debris, and mold if they are not properly maintained.
Left ignored, the inside of your ductless mini split could become a home for mold and mildew. A ductless unit that has mold growth in it puts mold spores into the air you breathe, making problems for your home and your health.

5 signs of a Mold Problem
A bad odor that may smell like a dirty sock or something cheesy
Black or odd-colored splotches on the wall unit, visible when lifting the cover on the air handler
Finding a lot of moisture or standing water beneath your ductless unit
Having increased difficulty with respiratory problems
Experiencing more allergy-like symptoms inside your home
How to Clean Mold from Mini Split

How to clean mold from your mini split is a fairly easy process that just about any homeowner can handle themselves.
First, you will want to make sure that your system is turned off. When you flip up the top cover, you will see 2 filters right at the top. You simply need to pull them up and out to remove them. Once removed, you can put them in your sink and rinse them off.
Note: if your mini-split system includes an additional special antimicrobial & anti-allergy filter, you will need to remove that from the larger filter before washing. This special filter cannot be cleaned.
Let the newly washed filter dry completely. You should wait at least 20 minutes before placing them back in the mini split unit. If you had that special filter that you needed to remove before washing, be sure you reattach that before reinserting the filters.
Put the cover back down and click it back in place.
These basic steps should clean out dust, debris, and a small gathering of mold. However, if the mold has become a much larger problem or if it has developed in parts of your mini split system outside of the filters, you may need to call for a professional cleaning and tune-up.
Contact Fenix Heating & Cooling for professional maintenance service on your ductless system. Call us at (316) 945-4842 or you can request service by sending us a message online.
How to Prevent Mold Problems
The best way to prevent mold is to keep your mini split turned on.
The best way to prevent future mold problems is by NOT immediately turning off the system when you don't need it. Unlike a furnace and air conditioning system, mini splits don't cycle on and off. Instead, they often run in the background in a low-power mode.
When a mini split is on it isn't only maintaining the temperature. It is also working to drain moisture. When you turn the system off unexpectedly, that moisture stays put.
For ductless mini split system installment, repair or maintenance in and around Wichita, call the Fenix Heating & Cooling comfort specialists at (316) 945-4842.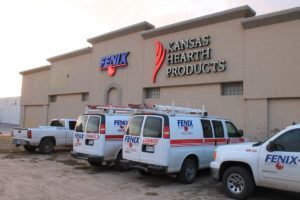 Trust the Fenix Comfort Heroes to rescue you from your HVAC problems. Don't wait until the first day of winter to discover your furnace is not working! Turn it on today. If it's not running properly, contact us and we'll work to get your system fixed before the first frost.
Join the Fenix Protection Plan Service Program today! You'll receive some nice benefits, like 20% off all parts and labor and having the peace of mind to know that your HVAC unit is being serviced by the best comfort specialists in Wichita!
Visit our showroom to see all our trusted products on display at 802 West 2nd St., just across from Wichita's new library, or give us a call at 316-945-4842.
Be sure to check out our current promotions to get the best deal on meeting your comfort needs!