Regardless of what your heating needs may be, Fenix can install for you the perfect Lennox furnace. As a Premier Dealer in Wichita, you can trust in us to do a masterful job in installing and maintaining any Lennox furnace.
Lennox carries a wide variety of furnaces and HVAC units. To help familiarize our customers with the different models of Lennox furnaces, we've compiled a brief outline of the options available, from oil to gas, to highly efficient furnaces and environmentally friendly furnaces. With it, you'll be able to get an idea what type of unit would be best suited for your needs.
Then all you have to do is give the Wichita comfort specialists a call at 316-945-4842, and we'll happily install a new unit for you, taking the utmost care to treat your home with the respect it deserves. We'll ensure we'll leave it in the state we found it—if not slightly better.
The Basics
If you're completely new to furnaces, don't fear. Fenix's comfort specialists are more than happy to break down some of the features, and what they mean. The following paragraphs will give you a brief rundown, but if you have any questions, or would like to know more, feel free to give us a call at 316-945-4842.
Let's start with efficiency. A furnace's AFUE rating, or it's annual fuel utilization efficiency, tells how much of—and how well—the fuel is utilized. This typically falls anywhere between 80% to 98%. In other words, this if the AFUE rating is 80%, then 80% of the fuel will be used to heat your home. The other 20% will go up in smoke. Highly efficient systems are Energy Star® qualified. No matter which Lennox Furnace you choose, you can rest assured that it will be a highly efficient unit.
Then there are two and one-stage, as well as modulating furnaces. One-stage furnaces have two modes: one and off. When they're on, they're heating at full capacity until they reach your thermostat's designated temperature, then they shut off. A two-stage furnace has a second function. In addition to running at full capacity, these heaters can run at half, further increasing efficiency.
A modulating furnace can run anywhere between 40-100% capacity, making for highly efficient heating. These furnaces are how you achieve 98% or higher AFUE ratings.
Choosing a Lennox Furnace: The Three Series
Lennox breaks their equipment down into three categories, or series: Merit, Elite, and Signature.
Merit – These are the entry-level furnaces. They're all single-stage and typically have an efficiency rating between 80% and 90%. These make for great heating solutions for any homeowner on a budget. These smart designs are thoroughly tested to ensure exceeded expecations.
Elite – These mid-range furnaces take comfort to the next level. They come in single and two-stage varieties, saving you even more money on your heating bill through outstanding energy efficiency.
Signature – The Dave Lennox Signature Collection is simply the best of the best. These furnaces are the ultimate expression of Lennox innovation. They have all the best features and operate at the highest possible efficiency.
If images and words are still leaving you wondering why Lennox units are so special, you can stop by the Fenix offices and see them in action. The building's comfort is maintained by the same Lennox units that we sell, so you're able to stop by, hear their quiet hum, and feel the results in the air around you.
No matter which Lennox furnace you choose to install in your home, you'll receive a highly efficient unit that will not only warm your home during those chilly Wichita months, but will also save you plenty of money on your bill, too.
Give the comfort specialists in Wichita at Fenix a call at 316-945-4842 to learn what unit would be perfectly suited for your budget, the size of your home, and your every heating need.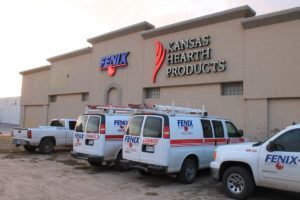 Trust the Fenix Comfort Heroes to rescue you from your HVAC problems. Don't wait until the first day of winter to discover your furnace is not working! Turn it on today. If it's not running properly, contact us and we'll work to get your system fixed before the first frost.
Join the Fenix Protection Plan Service Program today! You'll receive some nice benefits, like 20% off all parts and labor and having the peace of mind to know that your HVAC unit is being serviced by the best comfort specialists in Wichita!
Visit our showroom to see all our trusted products on display at 802 West 2nd St., just across from Wichita's new library, or give us a call at 316-945-4842.
Be sure to check out our current promotions to get the best deal on meeting your comfort needs!