Fenix is proud to have received the 2017 Lennox Centurion Award. This is the 15th year in a row that we have received this high honor which is given to only the top 6% of all Lennox dealers in North America for dealers with outstanding performance in customer service and quality of installations.
What can you expect when we service your home with an HVAC installation? Throughout every step of the way, Fenix technicians will handle every detail. From planning to installation, we have the experience you can rely on. From permits to rebates to warranties, even the little steps are handled when you hire Fenix to help make your home feel better.
We have broken down each step of the process so you know what to expect with an HVAC installation from Fenix. You can click to jump from one section to another.
WHY LENNOX?
WHY FENIX?
IN-HOME VISIT
INSTALLATION TIMELINE

EQUIPMENT
WE SECURE PERMITS
INSTALLATION: THE BIG DAY IS HERE!

AFTER THE WORK IS DONE

WE SECURE YOUR REBATE
WE FILE ALL THE WARRANTY PAPERWORK FOR YOU!
WHY LENNOX?
Every Lennox product and system is designed to make people feel comfortable in their homes.
Innovative systems with quiet operation and precise control improve the quality of the air in your home, while maintaining optimal temperature and humidity levels.
Our cooling systems include central air conditioners, heat pumps, and dual-fuel options that combine a gas furnace with an electric heat pump for optimal energy use – all designed to work with our precision temperature controls to help you save on utility bills.
Lennox heating products include high-efficiency offerings for both gas and oil furnaces, with impressive distinctions such as lower noise levels and greater energy efficiency.
Learn more about Lennox products to keep your home at the ultimate comfort level.
WHY FENIX?
For nearly 3 decades, Fenix Heating and Cooling has been serving the Wichita area. With more than 30 employees and 25 technicians, Fenix stands apart by our large, skilled team of specialists. We are proud to be one of the most prominent HVAC companies in the Wichita area!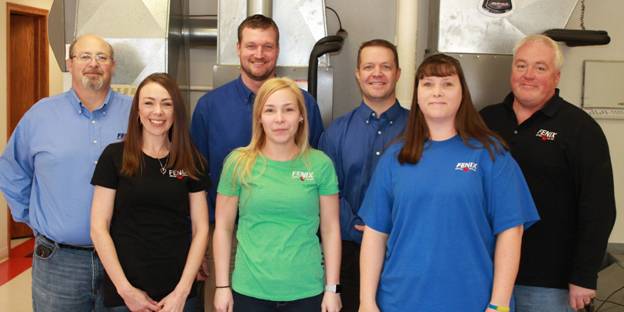 We specialize in Lennox systems. In fact, Lennox is the only thing we install (and always have), making us your local Lennox experts!
Need more information? We are always happy to answer your questions and to explain more about our products and services. Contact us online or call Crystal at (316) 945-4842 and let us know what your home comfort needs are.
YOUR OPTIONS ARE ON DISPLAY
Come and see it for yourself. Stop by our Fenix showroom here in Wichita to see a variety of Lennox products on display. You will get a good sense of what the units will look like in your home. We are a non-commission business, so come knowing you won't be bothered with a sales pitch, just an opportunity to see (and hear) how well a Lennox product will work for you.
IN-HOME VISIT
Let our top experts see what your home needs. Only one of our owners of the business, like Cory (left) with 25 years HVAC experience or Luke (right) with 18 years HVAC experience, will come by to assess your options for making your home as comfortable as possible. What you will experience is a friendly visit, not a high-pressured sales pitch. We don't have sales people and we don't work on commission. Count on us to be knowledgeable, honest and to walk you through all your options.
It's about your satisfaction. We pride ourselves on providing quality service and maintaining the reputation of trust we've worked to create over the past 30 years. And since we've done this for so long, you can trust we'll know ALL the questions to ask to make sure we find the best solution for you and your home.
More than just temperature control.
We may have solutions to more problems than you realize. Do you worry dry Kansas air is warping your wooden floors? Do you suffer from skin irritation or frequent sore throats? Your portable humidifier may not be effectively combating all the problems with dry air and could even be damaging your floors. We can help. A whole-home humidifier can add up to 17 gallons of moisture per day to your home's air. Learn more about Healthy Climate® humidifiers that attach directly to your furnace or air handler online or ask any of our technicians.
HVAC INSTALLATION TIMELINE
The start of the process begins right away. Once we have created a home-comfort plan that you are excited about, that's when we jump into action.
If we don't have the equipment in stock, we order it.
If you visited our Wichita showroom, you've seen how much equipment we have on hand. We even make a lot of the sheet metal fillings in our own shop. But if we don't happen to have the equipment needed for your custom installation, don't worry. We can order it and can expect to receive it in just 1 day!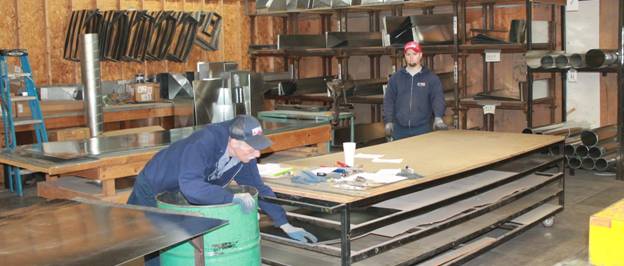 Don and Greg are our shop leaders. They have a total of more than 50 years' experience!
We secure all permits.
You can trust us to take care of all the necessary requirements. We will be sure to pull and acquire all city and/or county permits required for us to complete the job for your home. We won't let any red tape delay our work. We make sure to follow through with all necessary agencies by calling and confirming everything is good to go before installation.
Time to install!
When we work with you to finalize the perfect plan for your home, we will coordinate with you for a timely and workable date for the HVAC installation. And when that day comes, here's what you can expect.

Our first action happens at our shop. Our team of skilled technicians meet to discuss the plan for your home so to ensure all the prep work is done and that all the tools and equipment are loaded up.
We may get dirty. Your home won't.
Our very first step when we arrive at your home is to lay down drop cloths in all the affected areas to make sure your flooring does not get damaged.
Out with the old.
On this Lennox install, a Wichita homeowner decided to upgrade the system he had for nearly 40 years. Impressed his system lasted 40 years? Don't be surprised. It was a Lennox!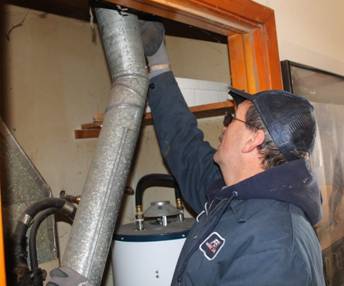 Jeff (above) is one of the technicians who may do the work in your home. With over 20 years' experience, Jeff has installed thousands of Lennox systems.
There's only one way we do things: the right way.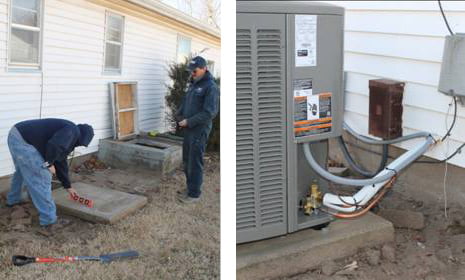 It's not uncommon for our technicians to deal with past HVAC installations that in one way or another don't meet code or provide the most efficient system for your home. Whether it's installing a new concrete pad, a new electrical disconnect box, new PVC flue pipes, zoning dampers, indoor air quality filter systems or running new wires, count on our team of experienced technicians to identify these needs and to handle it themselves.
Here is one of our technicians applying foam sealant tape to prevent air leakage. We know energy-saving methods are vital to an effective comfort system and take care to implement the solutions needed to keep your home running efficiently.
The smartest solution.
At Fenix, we use the latest technology, that even includes Wi-Fi thermostats, variable speed compressors and many other state-of-the-art features.
It all comes down to comfort.
New pipes, new wires, a new system. Trust that your home will have the newest and most efficient set-up to leave you with the most comfortable home.
Your Lennox HVAC installation isn't complete without a Lennox thermostat. And don't expect some ordinary thermostat. The various iComfort® and ComfortSense® Thermostats ensure energy-saving control is at your fingertips.
No detail ignored.
Don't be surprised if we leave your home CLEANER than when we arrived. We pride ourselves in treating your home like it was our home (or better!).
When the installation is complete, we handle the last (but not least) final step: a visit from the city inspector. From permit to approval, we will handle the complete process.
AFTER THE WORK IS DONE
The day after we finish the install, you'll get a call from us to make sure everything is running smoothly and that it's everything you expected. You will also receive a warranty card for the new products in your home as well as a survey you can complete on the work we did.
We understand your life is busy enough without having to think about your comfort systems. Let us make it easy for you. We will mail you reminders of our planned service maintenance agreement. We offer a Fenix Protection Plan Service Program as a way of saying thank you for your loyalty. When you enroll in our one-year, prepaid Protection Plan Service program, you are immediately elevated to Preferred Customer status, meaning that you'll receive priority scheduling when you set up a service call. Learn more about member benefits Program and how a plan will let us take the worry out of your future heating and cooling needs.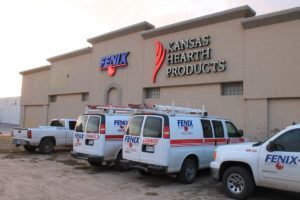 Trust the Fenix Comfort Heroes to rescue you from your HVAC problems. Don't wait until the first day of winter to discover your furnace is not working! Turn it on today. If it's not running properly, contact us and we'll work to get your system fixed before the first frost.
Join the Fenix Protection Plan Service Program today! You'll receive some nice benefits, like 20% off all parts and labor and having the peace of mind to know that your HVAC unit is being serviced by the best comfort specialists in Wichita!
Visit our showroom to see all our trusted products on display at 802 West 2nd St., just across from Wichita's new library, or give us a call at 316-945-4842.
Be sure to check out our current promotions to get the best deal on meeting your comfort needs!