3 Troubleshooting Steps When a Furnace Does Not Blow Hot Air
There is never a good time to find out your furnace is not working, but perhaps the worst time is in the middle of a cold Kansas winter. Those coldest days are some of the busiest for our team at Fenix Heating & Cooling. Fortunately, our experienced repair technicians have dealt with about every type of problem that furnaces (and other heating systems) can run in to and can be relied upon to get a workable system back up and running.
A furnace blowing out cold air is an alarming problem for any homeowner. It may suddenly feel like the air conditioner is running. That is not likely the case, but there are several different reasons why a furnace has stopped blowing hot air. Fortunately, most likely causes are issues that can be easily fixed.
Furnace Not Blowing Hot Air: Repair or Replace?
Just because there is cold air coming out of your furnace, do not assume that your furnace is broken. While that is a possibility, especially if your furnace is quite old, there are a lot of fixable issues that could be causing the hot air to stop. Some of those issues may be able to be handled by the homeowners themselves!
Fenix Heating & Cooling is on call here in Wichita whenever you want a professional furnace repair technician to service your furnace. Call us anytime at (316) 945-4842 – we are available for 24/7 emergency furnace repair.
But before calling us, you can try out these 3 troubleshooting DIY steps that may get the hot air flowing without waiting (and paying) for a service call.
3 Troubleshooting Steps for a Furnace Blowing Cold Air
Some simple issues can cause a furnace to stop blowing hot air. We break down four troubleshooting steps that a homeowner can check to potentially solve the problem on their own.
TROUBLESHOOTING STEP 1: Is Your Thermostat Correct?
It's quite common in shared spaces for different people to have different ideas on what the best indoor temperature is. Is it possible someone lowered the thermostat setting without you knowing?
Make sure it is set to be at a temperature that it warmer than it already is inside your home. If it's not, turn it up to several degrees above that.
You may find this was the entire problem and have fixed it immediately! The downside is that you may have found yourself at the beginning of a "thermostat war" with someone else in your home. (Good luck with that!)
TROUBLESHOOTING STEP 2: Is the Fan Setting On?
While you are examining the thermostat, check to see if the FAN is set to ON. This means your blower is running all the time and could be causing you to feel cool air coming from your vents. If the inside air is already at the set temperature, your furnace won't warm the air that the blower is pushing out. And so, compared to the existing temperature, it can feel like your furnace is blowing cold air.
Make sure the fan is set to AUTO. This will cause the blower fan to only run when the furnace is also heating the air.
TROUBLESHOOTING STEP 3: Is Your Air Filter Clean?
When is the last time you changed your air filter? Even if you think it's not due for a change, you could be wrong. Many people are confused about how often they need to change their filter and end up having a dirty filter in their system longer than they should. A dirty filter can cause a wide variety of problems, including making it feel like your furnace is blowing out cold air.
A dirty furnace filter can block necessary air flow and can cause the furnace's heat exchanger to overheat. This is a potentially dangerous situation. If the heat exchanger cracks, that can lead to a carbon monoxide leak.
Many furnaces have sensors that detect this potential danger and will shut off its burners as a safety precaution. That means your furnace will not be able to heat your home until that potential problem is resolved.
If you see the filter is dirty, changing it may resolve the problem completely. However, if the furnace shut down because of a potential danger to your heat exchanger, it may not come back on automatically again. It will need to be reset to start working again. Call Fenix right away at (316) 945-4842 and we will make sure to fix whatever issue your furnace is having and safely reset to start working.
Other Potential Causes
Hopefully, the cause of your furnace troubles can be handled by simply changing a filter or by adjusting the thermostat. However, there are a variety of other reasons why a furnace may have stopped blowing hot air. Many of those repairs are beyond most homeowner's ability to fix.
Other Potential Causes to Furnace Problems:
Gaps in the duct work
Dirty flame sensor in the furnace
An electrical problem with the ignitor
When to Call for Professional HVAC Repair
If you try these three troubleshooting steps and your furnace continues to blow out cold air, contact a professional furnace repair technician. Fenix Heating & Cooling has repaired furnaces in the Wichita area since 1998. We are experienced and trained to repair any type or model of furnace or heating system. Call us for quick and professional service at (316) 945-4842.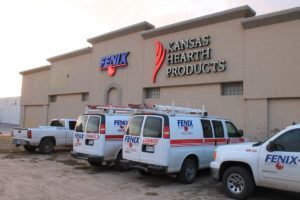 Trust the Fenix Comfort Heroes to rescue you from your HVAC problems. Don't wait until the first day of winter to discover your furnace is not working! Turn it on today. If it's not running properly, contact us and we'll work to get your system fixed before the first frost.
Join the Fenix Protection Plan Service Program today! You'll receive some nice benefits, like 20% off all parts and labor and having the peace of mind to know that your HVAC unit is being serviced by the best comfort specialists in Wichita!
Visit our showroom to see all our trusted products on display at 802 West 2nd St., just across from Wichita's new library, or give us a call at 316-945-4842.
Be sure to check out our current promotions to get the best deal on meeting your comfort needs!