Wichita Home Comfort Maintenance Service Plan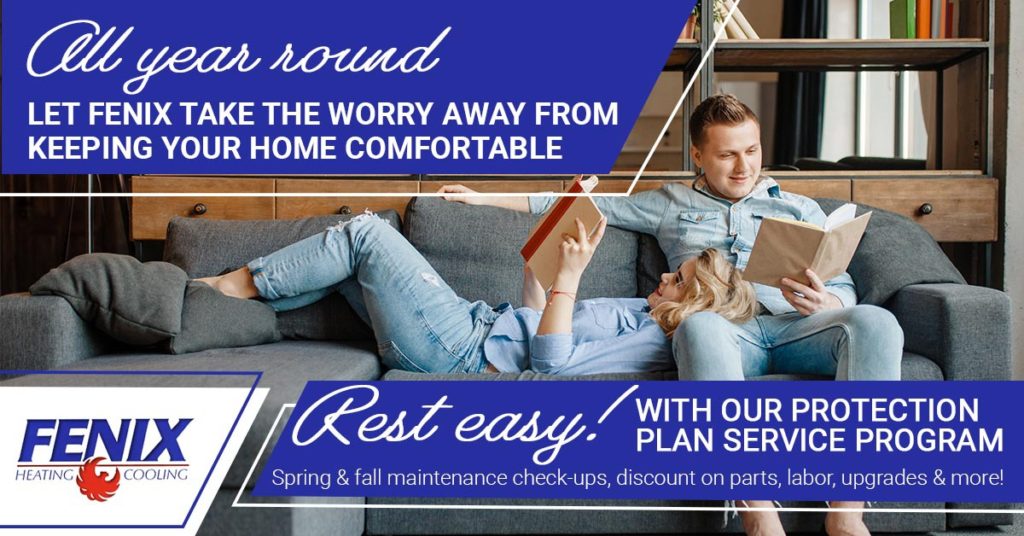 As a thank you to all of our loyal customers, Fenix offers a one-year, prepaid Service Program, offering our customers two maintenance checkups each year (one in the spring and one in the fall), as well as plenty of other benefits:
20% off all parts, labor, and accessories
No overtime charges
20% discount towards ductwork or equipment relocation
10% off upgraded or added accessories
10% off new equipment sales
Now, we understand any hesitation you might have over choosing to enroll in such a program. It might be easy to wave it away as just another way for a company to squeeze even more money out of you, but Fenix's Protection Plan is there to help – really.
And it's not just a peace of mind situation, although that's nice, too!
Maintenance is Key
Heating and cooling units are big, complex machines that require maintenance. We know how tempting it is to just ignore that rumbling beast in your basement until something breaks. A lot of our service calls are just because of this: customers waiting until something stops working to have a trained comfort specialist come and look at it.
If that happens in the dead of winter, in sub-freezing weather, then the fix could be hours away, or it could be weeks, and a whole new system, leaving you to fend off the cold however you can. That's just the type of eventuality that we're trying to avoid with our Service Plan.
As Efficient as Possible

Fenix has set this membership in place to not only protect our customers, but to also save them money with regular service. If we discover a problem, our trained comfort specialists can take care of it before it becomes a catastrophe. It's the difference between a service call and a complete installation process.
Then there's the savings on your energy bills. A well-maintained unit is an efficient unit. By having it regularly serviced, you'll be keeping it running in tip-top shape.
Other Benefits
In addition to those two checkups – which must be completed by the end of July and the end of December, respectively – there's always the peace of mind aspect, as well, knowing that your system is running in peak condition and there's little likelihood of a catastrophic failure as long as long as you take advantage of the complimentary, twice-a-year service calls.
Good Reasons for a Service Plan
Of course, the maintenance plan isn't insurance, and is meant to only help cover the cost of regular wear and tear. It won't cover damage due to vandalism, theft, fire, flood, hail, or other "acts of God". In addition, the plan does not cover moving the unit, adding or changing ductwork, or electrical work. It does not cover cosmetic damage or asbestos testing, abatement or removal. This plan is not transferable to another address and is nonrefundable.
Other than these instances, though, you should be good to go!
And with summer right around the corner, now's a perfect time to enroll. Wichita summers can really put some stress on your air conditioner. Don't wait until the dead of summer to have your unit routinely serviced! Having it done early can not only save you money, but the longer you wait, the longer you'll have to wait as Fenix (and other HVAC companies) quickly book all their available appointments. Then, if something dire were to happen, you may have to resort to something other than the Fenix's talented comfort specialists, like that guy who works out of the back of his van and thinks that Lennox is a brand of tools.
Wichita HVAC Maintenance Professionals
So, don't hesitate to give us a call at 316-945-4842, or contact us today! Also, don't wait until the first day of summer to turn on your AC! That's what everyone else does. Turn it on today – right now – and avoid a lengthy wait when you discover that every HVAC company in Wichita is booked for weeks!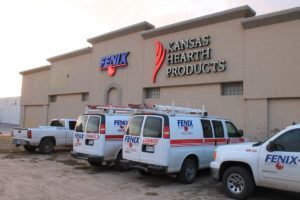 Trust the Fenix Comfort Heroes to rescue you from your HVAC problems. Don't wait until the first day of winter to discover your furnace is not working! Turn it on today. If it's not running properly, contact us and we'll work to get your system fixed before the first frost.
Join the Fenix Protection Plan Service Program today! You'll receive some nice benefits, like 20% off all parts and labor and having the peace of mind to know that your HVAC unit is being serviced by the best comfort specialists in Wichita!
Visit our showroom to see all our trusted products on display at 802 West 2nd St., just across from Wichita's new library, or give us a call at 316-945-4842.
Be sure to check out our current promotions to get the best deal on meeting your comfort needs!