Customers Rate Fenix among Best HVAC Companies in Wichita, KS
When looking for the best HVAC companies in Wichita, how do you know who to choose? Where do you go for the best priced AC install? For replacing a failing furnace or air conditioner, you can't go wrong with Fenix Heating & Cooling.
We know it can be very difficult to find a company you can trust. Getting a new heating system or AC installed is a big decision. It can be very costly, especially when your finances are not ready for a surprise expense.
There are many companies providing heating and air service to the Wichita area that you can choose among. Fenix Heating & Cooling is the locally owned company that Wichita customers regular recommend for having not only skilled quality service, but also fair prices.
Here is the story of one of our Wichita customers who had found Fenix to be exactly the solution to her home's needs. You will see how we exceeded her expectations with quality, timeliness and also affordability.
Testimonial for Best Priced AC Service in Wichita
"All very professional in all ways, l think they did a great job. Actually came 2 days early because our old unit went down for good. Great price on a/c and furnace combo, beat competion by $2,700 got a better a/c unit for that price. Furnace probably same.

The 2 installer guys were both very nice and helpful and did a amazing job – and I think were fast on installation, started at about 9 am and were finished by 2pm. The house was 86 degrees inside and took about 4 hours got temp to 77 by 6pm. Very comfortable.

Everything looks great and very professional, couldn't ask for a overall better job at a very good price. Everybody involved was very honest and helpful, more than I can say about other quotes I got from other companies in Wichita area. Excellent job and equipment. My last Lennox unit lasted 26 years – can't complain about that."
–Beverly Melson
Wichita Summer Temperatures Soaring
Do you recall the break from the heat we enjoyed in early July of last summer? Some unusual weather conditions and precipitation left much of Kansas with much cooler weather than we usually experience. It was a nice break from the heat, but it didn't last for long. Come mid July, our high temperatures soared right back up.
In just five days, we went from a very cool high of only 74 right up to a high of 95. And then the temperatures stayed high, putting us into 100 degree heat just a few days later.
This quick spike in heat wasn't just a shock to people, but to our home's cooling systems. Suddenly our air conditioners were going full blast working to keep temperatures in our homes to a cooler temperature. This is precisely a time when these cooling systems are pushed too far. The demand to handle a sudden rise in temperature is often the cause of an AC breaking down.
This cooling system failure should not happen to normal systems. If a central air condioning system breaks down right at the beginning of a heat wave, it's usually due to one of these conditions:
Old air conditioning system
HVAC system with loose or broken parts
A system that wasn't installed properly
A system that hasn't gotten

regular maintenance

Very dirty air filter
For Beverly, she had an old unit. It simply couldn't keep up with this increased heat. It doesn't usually take long to realize your home's cooling system has failed, as the temperature inside your home is gradually creeping up.
Best Priced AC Install: The Importance of Getting Multiple Quotes
When Beverly noticed her AC was out, she called around to get it replaced. That is exactly what a homeowner should do in this situation.
A new AC is a relatively big investment in a home. It is an important unit that is meant to last for 10 or more years. So you want to be sure you purchase a good quality system that is reliable.
But the quality of an AC unit is actually the 2nd most important factor in a new installation. The number one most important factor in getting the absolutely best cooling system installation for your home comes down to this: hiring a qualified and skilled HVAC installer.
Too many times, our Fenix technicians are sent out to Wichita homes to handle an AC or furnace that has broken down to find the cause was poor installation.
When it comes to getting a new AC or furnace installed in your home, you do not want to cut corners. What may seem like a big savings now may end up costing you more in the long run. Your system will be prone to needing repairs and could break down many years before its time.
More Expensive Does Not Always Mean Better
Fortunately, getting a licensed and experienced HVAC team to intall your home's systems does not have to come at an extremely high price. Fenix Heating & Cooling is proud to provide Wichita with installation of the premium Lennox brand of HVAC systems at an affordable price.
Customers often tell us that Fenix is cheaper than other Wichita HVAC companies.
And that's exactly what Beverly found when she contacted Fenix for a free quote on new installation. Our AC came in nearly $3000 less than what another Wichita company quoted.
Fenix Heating & Cooling is Wichita's premiere Lennox dealer. Lennox is an American HVAC manufacturer of quality furnaces and air conditioners. Lennox units are regularly the top rated in a variety of factors including energy-efficiency, sound and durability.
Just read Beverly's quote – her last Lennox unit lasted 26 years!

Quick AC & Furnace Installation
We know the heat can be dangerous. So Fenix Heating & Cooling works as hard as we can to quickly provide the necessary repair or replacement to our customers. As Beverly noted, we were able to quickly start her AC and furnace installation.
It was late July when our team got her home's entire HVAC system replaced. Our team worked quickly to restore her air conditioning, getting it to comfortable degrees by dinner time. By 8:00pm, her home had cooled down enough for the system to cycle off. We are happy to know our customer was able to have a cool, comfortable night.
How to Find Best HVAC Companies Wichita, KS
When you are faced with needing your furnace or air conditioner replaced, call Fenix Heating & Cooling for a free quote. We also recommend you call other Wichita HVAC companies for price estimates on the work they do. Be sure to get a written estimate that explains exactly what they will install and what work is included. You also want to ensure they are licensed HVAC installers with properly training and experience.
Read more: 4 Reasons to Get 2nd Opinion on Installation of a New Furnace or AC
Our qualified team at Fenix Heating & Cooling are licensed HVAC technicians you can count on. We have provided service to Wichita since 1988 – check out our long history here. Over the years we have received hunreds of glowing reviews from our customers. You can read some of the glowing Wichita testimonials for our HVAC company here.
Call Fenix Heating & Air for professional heating, air conditioning, and indoor air quality service in Wichita, KS and the surrounding communities. Call us at (316) 945-4842 or you can request service by sending us a message online.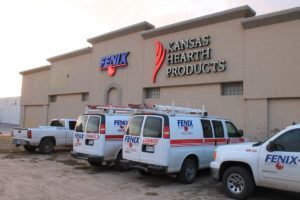 Trust the Fenix Comfort Heroes to rescue you from your HVAC problems. Don't wait until the first day of winter to discover your furnace is not working! Turn it on today. If it's not running properly, contact us and we'll work to get your system fixed before the first frost.
Join the Fenix Protection Plan Service Program today! You'll receive some nice benefits, like 20% off all parts and labor and having the peace of mind to know that your HVAC unit is being serviced by the best comfort specialists in Wichita!
Visit our showroom to see all our trusted products on display at 802 West 2nd St., just across from Wichita's new library, or give us a call at 316-945-4842.
Be sure to check out our current promotions to get the best deal on meeting your comfort needs!