Getting Multiple Quotes for an HVAC Installation in Wichita
Need to get a New Furnace or AC Installed?

When it's finally time to replace an aging or failing heater or air conditioning system, that can be a big decision. After all, this may be one of the biggest investments for your home. That's why deciding on a new furnace or an AC replacement should involve research and also getting a second opinion on installation options.
While it doesn't come cheap, a new home comfort system pays off in many ways. Not only will you get the comfort of heating and cooling that keeps your home at the perfect temperature, but a new HVAC system will also be more energy efficient, which means cheaper energy bills each month!
But while a new furnace or air conditioner is worth the price, you still want to be careful in making this big home purchase. It is worth the time and effort to get a second opinion.
Having provided AC installations in homes and businesses across Wichita for decades, our team at Fenix Heating & Cooling has the experience and skills to help you find the right system for your home. Our team is licensed to install a new system, including any necessary ductwork or ventilation, to ensure proper air flow throughout your system.

4 Reasons to Get a Second Opinion on Installation of a New Furnace or AC
You will better understand the quote and the work involved.
The estimate sounds too high
The estimate seems too good to be true
You want to be sure you are getting exactly the right size unit for your home
1. You Will Better Understand the Installation Process
We understand that the mechanics behind installing an HVAC system are complicated. It's not something that most Wichita homeowners fully understand. While you do not need to know the details of proper furnace or AC installation, it is still good for homeowners to understand some of the essential basics, such as unit size and SEER rating.
Some of the important cooling factors to consider are explained fully in these helpful guides:
2. Installation Estimate Sounds Too High
There are many different HVAC companies here in Wichita you can call for a heating and cooling system installation. But different companies charge different the same fees. And some companies are cheaper than others.
Many of our customers tell us that they did price checking and found that Fenix Heating & Cooling in Wichita was their best option! If you think a company will charge you more for an AC installation than necessary, let us provide a quote for us to perform the service. This quote is provided at no cost, so there is no reason not to get a second opinion from Fenix!
"I've used Fenix for years for fixing anything that broke. But when it came to buying a whole new furnace and ac unit, I decided to shop around.
With 5 quotes from other companies, Fenix still had the best price. No pushy salesman either like some of their competitors. Here on time, installed both, cleaned up and answered every question I had about my new system. Will highly recommend them to everyone I know!!"
3. The Quote is Too Low?
Installing a new home comfort system, whether it's for new construction or replacing an old system, involves a lot of components. It should only be done by a trained and licensed HVAC technician. If you get a quote for an HVAC installation that seems too low, you may be dealing with a company that is not fully licensed or experienced to handle the work. What may seem like a discount may be a disaster waiting to happen. A poorly installed system is prone to wasting energy, not cooling properly, or even breaking down completely.
Fortunately, we have talented technicians here at Fenix Heating & Cooling. If you think an estimate is too low or you aren't sure if Wichita HVAC contractor who provided it to you is qualified, give Fenix a call for a 2nd opinion and to speak with a technician experienced in furnace and AC installation.

4. Right System for Your Home
There are a variety of different air conditioning systems. From the manufacturing brand, the unit's size to the energy efficiency level, there is a right furnace and AC unit that should be installed for your home. And sometimes the proper unit isn't a traditional unit but rather a heat pump or a ductless mini split system.
A good installation technician uses formulas and HVAC industry standards to determine the best units for any given house. A larger home would need a different system than a smaller home. Putting in too small of a unit will likely lead to insufficient heating or cooling. Installing too large of a unit can cause a lot of wasted energy and higher utility bills!
Having another company like Fenix Heating & Cooling give you a quote allows you to compare the quotes. If there is a significant discrepancy between the types of products recommended for you, that is a red flag that a company may not have appropriately sized the right system for your house.
When in Doubt, Call Fenix for a Second Opinion on Installation Service
If you receive a replacement quote and have questions, feel free to contact Fenix Heating & Air for a second opinion on installation. You can schedule a call with us by filling out our online form or call us at 316-945-4842.
Whether you doubt your estimate by another company or wonder if another Wichita heating and cooling installation team can provide a better price, Fenix Heating & Cooling would be happy to give you a second opinion!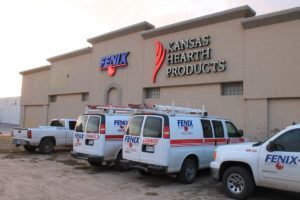 Trust the Fenix Comfort Heroes to rescue you from your HVAC problems. Don't wait until the first day of winter to discover your furnace is not working! Turn it on today. If it's not running properly, contact us and we'll work to get your system fixed before the first frost.
Join the Fenix Protection Plan Service Program today! You'll receive some nice benefits, like 20% off all parts and labor and having the peace of mind to know that your HVAC unit is being serviced by the best comfort specialists in Wichita!
Visit our showroom to see all our trusted products on display at 802 West 2nd St., just across from Wichita's new library, or give us a call at 316-945-4842.
Be sure to check out our current promotions to get the best deal on meeting your comfort needs!