How a Lennox Heater Ranks For Efficiency & Quality
When you make a big investment in your home, you want to be sure you are choosing the absolute best. Getting a new heating system installed in your home is a big investment. But, when getting a high quality new heater, it is an investment that will pay off.
With a good new furnace, you and your family will experience much improved and consistent heating throughout your home. In addition, you will reap the benefits of a modern new HVAC system with the technology to be highly energy efficient.
Why Quality Matters for a Furnace
When getting a new furnace, you are purchasing something that should last you more than a decade, perhaps even 20 years or more. Not only that, how well your furnace works will determine how much you pay every month. A good furnace that is professionally installed also means something invaluable – peace of mind.
When you have a quality, efficient system in your home, worries of breakdowns and furnace problems should be a thing of the past. Keeping up with regular maintenance and tune-ups should ensure you have a worry-free home heating system.
2020 Best Furnace Brands
If you are looking to purchase the best furnace for 2020 or even 2021, you'll want to know how the furnaces made by different companies compare. Through an assessment by Modernize, no HVAC manufacturing company surpasses Lennox in the most important factors that equal a quality and long-lasting system.
There are many brands of furnaces and heating units that are available to Kansas homeowners. From Rheem and Goodman furnace to American Standard and Carrier, each company creates their own furnaces. Which furnace brand should you pick?
| | | | | | | |
| --- | --- | --- | --- | --- | --- | --- |
| | LENNOX | Rheem | Goodman | Carrier | Amana | Trane |
| Energy Efficiency | 9 | 8 | 8 | 8 | 7 | 8 |
| Warranty | 8 | 8 | 8 | 8 | 6 | 7 |
| Customer Service | 9 | 7 | 7 | 9 | 8 | 9 |
Why Lennox
It's not common to find companies who've been in business as long as Lennox has. This isn't just a company that's been around for a hundred years. Lennox HVAC has been operating across the country for 125 years! The company has lasted so long due to its dedication to quality and service.
Dave Lennox started the company in 1895. It is based out of Texas in a town near Dallas. It's an all-American company with manufacturing and distribution facilities across the Midwest and southern states.
Lennox Furnace Options – For Every Budget
When it comes to furnaces, there is so much to consider in ensuring you have exactly the right system for your home and family. Lennox provides 3 different furnace types to accommodate the specific needs that each homeowner has.
Merit: Entry-level furnaces that are great heating solutions for any budget
Elite: Mid-range furnaces providing even more superior heating and higher efficiency
Dave Lennox Signature Collection: highest-level furnaces complete with the most optimum features
What do all 2020 Lennox furnaces have in common?
All Lennox furnaces are highly energy efficient. Dave Lennox Signature is the most efficient. With a 98.7% efficiency rating, you will have your home operating at peak efficiency. This means lower monthly energy bills and a lower carbon footprint.
Beyond having a system that is energy efficient, you can do other things to improve the efficiency in your home. From thermostat control to humidity and insulation, read our helpful guide about the many ways homeowners can lower their heating bill.
How much money could you save with a new furnace?
It's quite astounding to see how much money you could save each month simply from having a modern and efficient new furnace. In fact, the amount of savings you see over time often more than makes up for the additional cost of choosing a higher-end furnace, such as the Dave Lennox Signature Collection.
See how much money you can expect to save. Use this handy Energy Saving Calculator to determine the difference that a new system with a high AFUE rating will be over your existing heating system.
Fenix is Wichita's Premiere Lennox Dealer
Keeping to Lennox's standard of quality service, Fenix Heating & Air is proud to be the professional Lennox installers here in Wichita and surrounding Kansas communities. In fact, Lennox is the only brand of heating systems and air conditioners that we install.
Contact Fenix Heating & Cooling online to get started on a free quote for a new furnace for your home. You can see exactly what is involved with an HVAC installation from Fenix here. From the first in-home visit to securing permits and everything in between, our Fenix team of licensed HVAC technicians will handle every detail of your installation.
When we first meet with you, we will go over all the options you have. Once we listen to your needs and desires for a new home comfort system, we will go over the variables that factor into choosing the right new furnace. From electric furnaces to ones that run on natural gas, we will go over how different energy sources make an impact on your monthly energy costs.
Other factors, such as variable speed blowers, modulating gas valve functions and the blower moor can sound intimidating. We are dedicated to making sure even the complicated aspects of HVAC are provided to you in a way that you can understand in order to make the best decision for your home and budget.
Furnace prices and installation costs can seem daunting, but we work to make sure you will be confident you are getting the system your home needs. Looking for the best furnace for 2020? Call us today for a free quote on getting an energy-efficient Lennox furnace installed in your home – (316) 945-4842.
Stop by our Fenix Heating & Cooling showroom to see and hear the quality Lennox heating and cooling units we can install in your home. We are located right in the heart of Wichita on 2nd St. right across from the new library.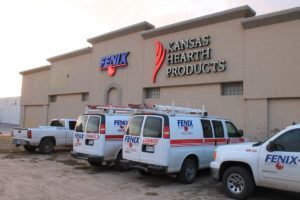 Trust the Fenix Comfort Heroes to rescue you from your HVAC problems. Don't wait until the first day of winter to discover your furnace is not working! Turn it on today. If it's not running properly, contact us and we'll work to get your system fixed before the first frost.
Join the Fenix Protection Plan Service Program today! You'll receive some nice benefits, like 20% off all parts and labor and having the peace of mind to know that your HVAC unit is being serviced by the best comfort specialists in Wichita!
Visit our showroom to see all our trusted products on display at 802 West 2nd St., just across from Wichita's new library, or give us a call at 316-945-4842.
Be sure to check out our current promotions to get the best deal on meeting your comfort needs!