A Dangerous Furnace Problem that Can't Be Ignored
What Causes a Heat Exchanger to Crack?
The main reason why a heat exchanger becomes cracked is due to the unit overheating. If the furnace isn't getting sufficient airflow, the exchanger gets too hot and literally cracks under the pressure of continual expanding and contracting. One reason why the airflow may become limited is because of a dirty air filter. This is another great reason why keeping your furnace filter clean is the single most important thing you can do as a homeowner. It is a relatively cheap maintenance step that goes an incredibly long way from preventing such serious problems as cracked heat exchangers. Other issues, like a too large or too small furnace or ductwork, can also cause heat exchangers to crack.
How Bad of a Problem is this?
This is a potentially serious furnace problem. A crack in this part of your furnace could allow exhaust gas to escape your heating unit, allowing carbon monoxide to seep into your home. This damage causes such a potential hazard that if a crack is found, you should not turn on your furnace again until it is fixed. Sometimes a professional who detects a crack will even shut down your furnace to keep it from getting turned on to ensure the safety of everyone in the home.
How Can I Tell if my Heat Exchanger is Cracked?
One way to tell if you have a cracked heat exchanger is if you can actually see a crack it in. In addition to spotting the actual crack, there are other visual clues to a cracked heat exchanger such as:
Soot build-up on the inside of your furnace
Cracks or corrosion on other parts of your furnace
Water on the floor (that's not the result of a condensation issue)
However, you could have a crack and never be able to see it. Often when a heat exchanger is cracked, that crack cannot be detected with merely a visible inspection. Special tools and devices are able to detect cracks that a homeowner wouldn't be able to see otherwise.
At Fenix Heating & Cooling in Wichita, we use a combustion analyzer to fully check for any cracks in your heating unit. A combustion analyzer provides oxygen and carbon monoxide readings to determine if there is any leak of any scale. Using this tool, we can confirm if there is a problem. And if there's not, you can avoid unnecessary repairs. Contact us online or call us at (316) 945-4842 and we will send one of our heating and cooling technicians out to accurately test your unit for cracks.
Does It Always Require Repair?
Yes. A cracked heat exchanger is always a risk for dangerous, even deadly, carbon monoxide poisoning. The fix is to have your heat exchanger replaced or even your entire furnace replaced, especially if your furnace is more than 10 years old. For cracked heat exchanger service in the Wichita area, call us at 316-945-4842.
How Much Does it Cost to Replace a Heat Exchanger?
The typical cost for replacing a heat exchanger is somewhere between $600 and $1200. This cost may be high enough for you to consider just getting your entire heating system replaced instead. Our technicians are experienced in dealing with repair and replacement of heat exchangers and furnaces and can talk you through your options, including the costs and benefits, in order for you to make the best decision on what you should get replaced if you find you have a cracked heat exchanger.
What is the Carbon Monoxide Risk?
You may have heard that a cracked heat exchanger puts you at risk for carbon monoxide. While this is true, just because the exchanger is cracked doesn't necessarily mean CO is being leaked into your home. The crack can cause that, in small or large amounts, but it isn't always a certainty. Because there is always the danger that a cracked heat exchanger could put you and your family at risk for having a dangerous CO.
Scams on this Furnace Repair
There have been cases of disreputable heating and air companies who claim a homeowner had a cracked heat exchanger when that wasn't the case. They may use the fear of having a CO leak to pressure the homeowners to get the exchanger or entire furnace replaced as soon as possible. If you have someone telling you that it is cracked but you don't see the crack and you want a second opinion before spending a lot of money to replace your furnace, contact Fenix Heating & Cooling and we will send one of our heating and cooling technicians out to accurately test your unit for cracks.
---
Call Fenix in Wichita for a free 2nd opinion at (316) 945-4842
---
Avoiding the Dangers of a Damaged Heat Exchanger
As mentioned at the very beginning of how a heat exchanger can be cracked because of improper airflow, the number one way to avoid this type of damage is by simply changing out your air filter on a regular schedule. Performing seasonal maintenance on your heating system will identify such problems as a crack in the exchanger. But again, it may take a professional HVAC technician with the proper, high-tech equipment to detect cracks in areas that aren't noticeable with a simple visual inspection. By signing up for our Fenix Protection Plan Service Program, you can rest assured that we will detect any cracks or problems with your unit in early fall, before you will be needing to turn your heat on for the upcoming cold Kansas winter.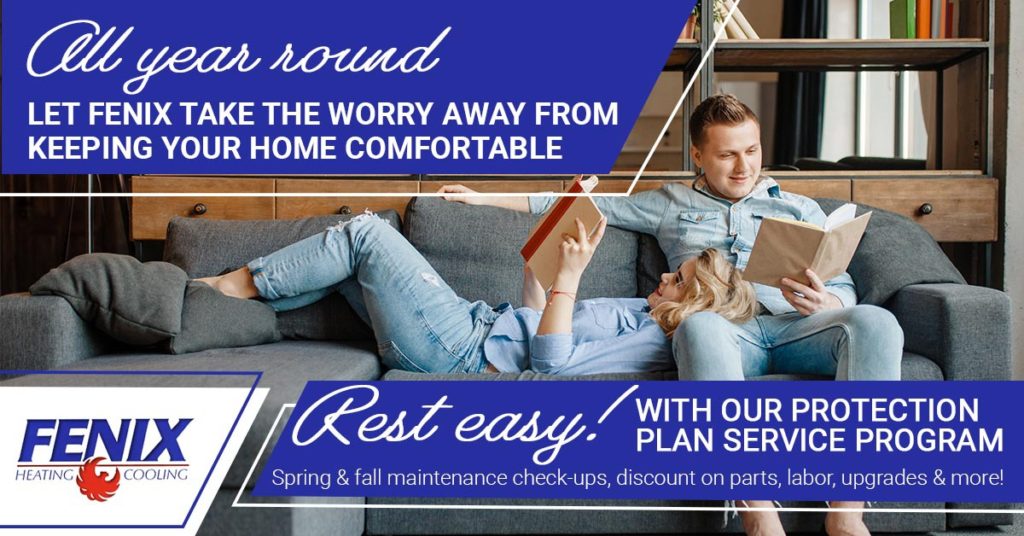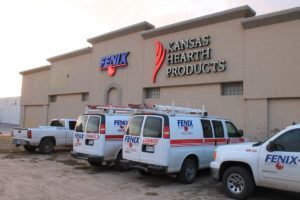 Trust the Fenix Comfort Heroes to rescue you from your HVAC problems. Don't wait until the first day of winter to discover your furnace is not working! Turn it on today. If it's not running properly, contact us and we'll work to get your system fixed before the first frost.
Join the Fenix Protection Plan Service Program today! You'll receive some nice benefits, like 20% off all parts and labor and having the peace of mind to know that your HVAC unit is being serviced by the best comfort specialists in Wichita!
Visit our showroom to see all our trusted products on display at 802 West 2nd St., just across from Wichita's new library, or give us a call at 316-945-4842.
Be sure to check out our current promotions to get the best deal on meeting your comfort needs!