One Wichita Homeowner's Modern Solution to Improving Home Comfort
July 2019
Gary's story is a lot like many homeowners across Wichita. For decades, he and his wife have been living in their ranch home in a west Wichita neighborhood. These houses were built in 1992, within the Chadsworth subdivision, and they were some of the first people to move in. Gary and his wife remember the nearby 21st street before New Market Square was built, well before it became one of the most high-traffic areas in the state.
They've maintained their home with updates and repairs as needed and will continue doing so far decades to come. Gary and his wife are invested in their home, which includes paying attention to any signs of problems before real disasters strike.
That's what happened in the summer of 2019. Gary and his wife realized that their air conditioning system was having a hard time keeping up with a particularly hot week here in Witcher. Not only was their current AC working harder to keep the house cool, but it was also leaking refrigerant. Gary knew it was time to upgrade, so he and his wife reached out to three Wichita HVAC companies in search of one that could do quality work at a good price. They decided to use Fenix Heating & Cooling. Gary had relied upon Fenix for past work, and he had a great experience with our company. He appreciated our ability to provide same-day or next-day service.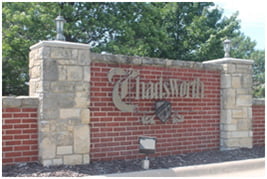 A Quality HVAC System You Can Rely On
Gary had been fortunate to have been able to rely upon his HVAC system for 27 years! If you think that's a long time for an AC system to work, you'd be right—except for one thing; they had a Lennox system. Lennox is known in the industry to be an incredibly reliable, high-quality manufacturer of HVAC equipment. We have so much faith in the Lennox brand that it's all Fenix sells.
Not only had Gary's system served him well for such a long time, but it had also been installed by Fenix back in 1992! Fenix has a long history in Wichita of providing reliable heating and cooling service to homeowners. Do you have one of these stickers on your furnace or air conditioner?
During the initial conversation, Gary appreciated how much attention Luke, one of the owners here at Fenix Heating & Cooling, had given to him to ensure we found the right system for their home. We learned the three components most important to Gary and his wife for his home's heating and air system:
Higher efficiency
Lower monthly energy costs
Quieter system
They also decided to upgrade their new HVAC system with a whole-home humidifier, a great device for homeowners—especially those who suffer allergies during Wichita's unforgiving seasons. Fenix provides this service, and our skilled technicians are experienced in incorporating these devices into a homeowner's new or existing heating and cooling systems. For Gary, we installed the Lennox WB3-17 Humidifier.
A Whole-Home Humidifier can:
Help with sinus issues
Help relieve dry skin, lips and eye irritation
Reduce illness-causing viruses and bacteria that thrive in moist air
Decrease static in the home
Wichita's Experienced Heating & Cooling Technicians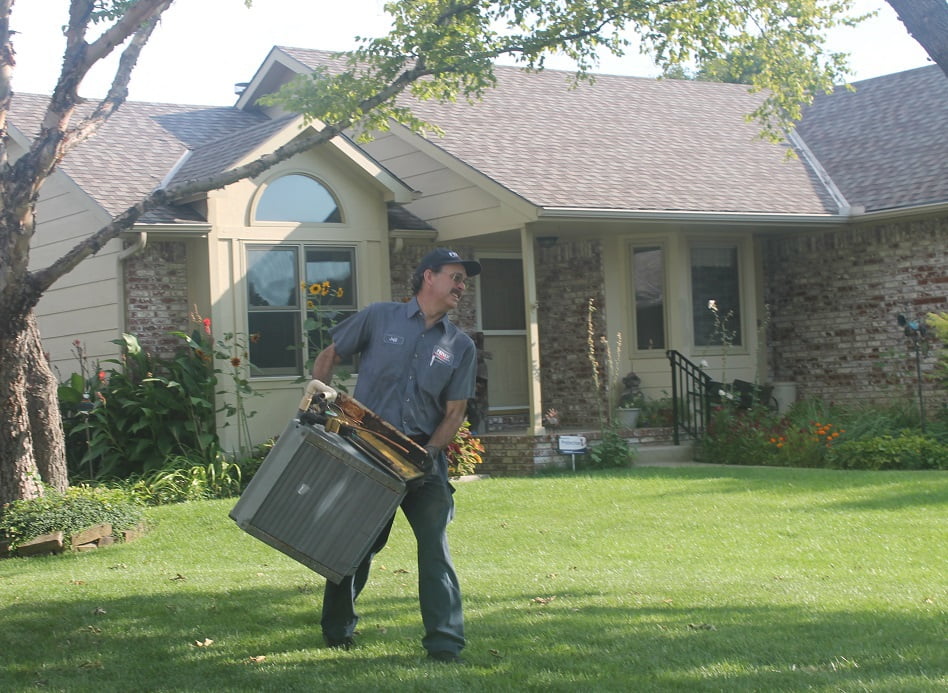 Jeff Todd, our most experienced HVAC technician, led the installation for Gary and his wife. This installation was one of Jeff's last jobs with Fenix. After spending nearly 30 years performing high-quality heating and air conditioning service in Wichita, Jeff enjoyed a well-deserved retirement shortly after installing the heat pump in this West Wichita home.
Chris joined Jeff on this project. He's a second-generation Wichita HVAC technician. Chris grew up watching his father service homes across Wichita. We are happy to have Chris on our team to provide his nearly lifelong experience of heating and cooling systems to our customers.
Just like all our technicians, Chris and Jeff were friendly, professional, and quick. This was a one-day installation for the entire process.
Our techs finished up the day by showing Gary how to operate his new system, including his new smart thermostat. At Fenix, we make sure our customers have all the necessary manuals for their new equipment. Since homeowners have a lot more to worry about than HVAC manuals and information, we place any necessary manuals and instructions right on the systems themselves.
The SEER Rating: A Good Reason to Upgrade Your AC Unit
Gary's old Lennox system had a SEER rating of 10. Back in 1992, that was considered pretty good. However, air conditioning technology has advanced so dramatically that much higher SEER-rated appliances are available for homeowners. In fact, over a decade ago, Kansas implemented SEER 13 to be the minimum rating for any new AC units installed. So, their old system was definitely out of date and not meeting current air conditioner efficiency standards.
After looking at their options and considering important factors such as efficiency, energy bills, and noise levels, Gary and his wife opted for a heat pump system with a SEER rating of 20. By doubling his previous system's SEER number, Gary and his wife will now be using as much as 50% less electricity than they did with their old AC system, and they're going to see that saving each month with every energy bill. Their new system comes with 10 years parts warranty for each of the 3 components that make up the new system.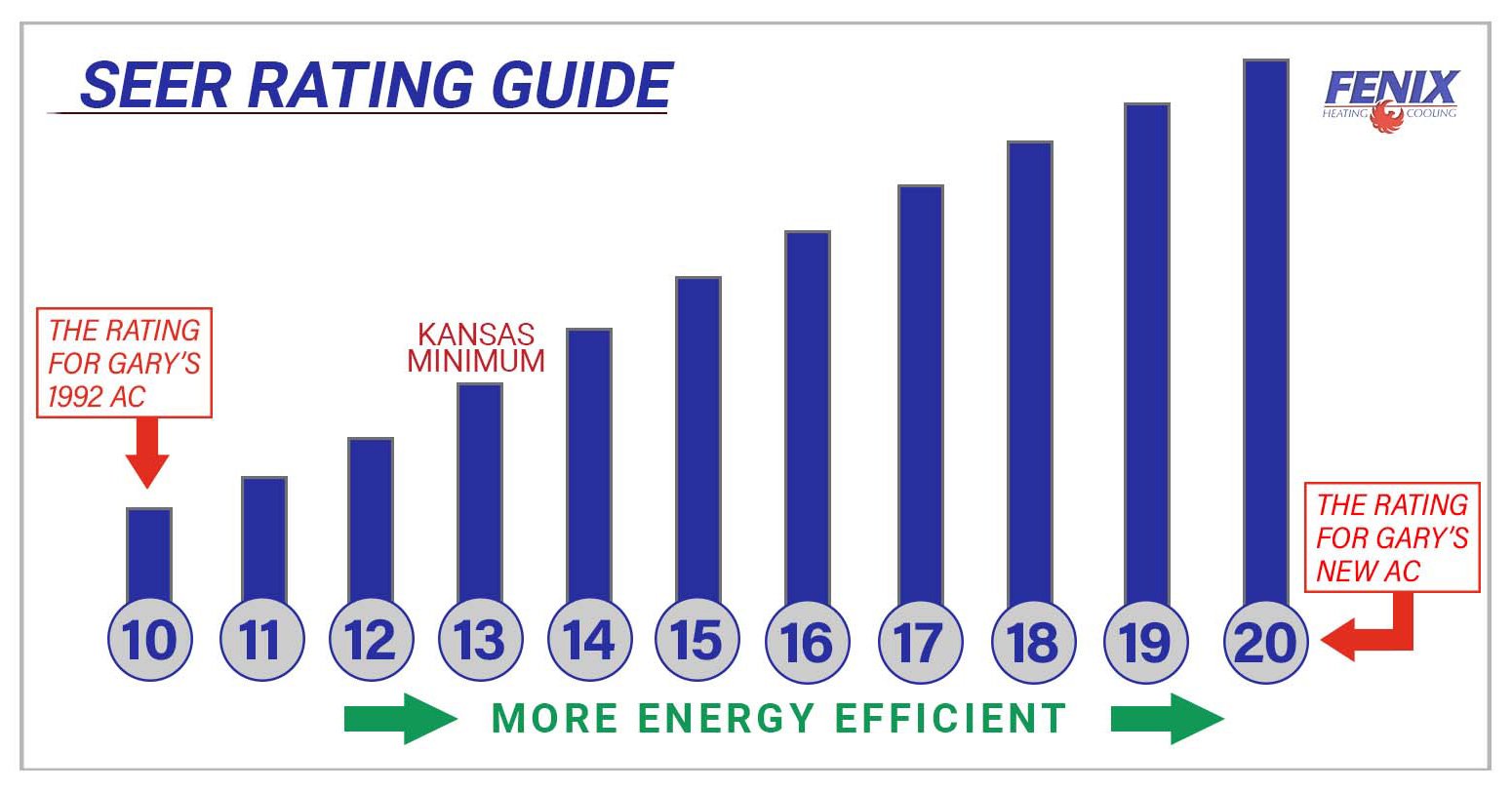 Customer Satisfaction – Handling Every Detail
A few days after the install, Luke called Gary to make sure the installation went well, and they were satisfied with their new Lennox heat pump. Our team follows up with customers to ensure everything went as expected, that the system is working well, and to answer any questions. We've found that many of our customers have questions regarding their new thermostat and how to program it. We are careful to be thorough and provide detailed information and instructions on anything related to their new system.
Our Fenix team makes sure to handle every step of the installation, including making sure your system is registered for its warranty (and apply for extended warranties, when available) as well as mailing off for any rebates from Lennox.
We make sure everything is done to code. Your Fenix technician will also handle any necessary city inspection that must be done on our work. For Gary's installation, we arranged for the city inspector to come and approve our work the same day as the installation, which is how we typically do it. We try to prevent our customers from having to handle the inconvenience of additional days of work happening in their home.
You can trust that our technicians are completely up-to-speed on what's recommended by the city code. In fact, Luke is on the Mechanical Board of the Metropolitan Area Building and Construction Department, the organization responsible for ensuring contractors are following and applying the proper City of Wichita and Sedgwick County building codes.
Want to Improve Your Home's System Before It Breaks Down?
Gary's story is a great example of a homeowner doing exactly the right thing for his home. He recognized his system wasn't working the way it once did and decided it was time to upgrade. His new system is running well, keeping his home comfortable, and resulting in lower energy bills each month. Whether you have a 30-year-old ranch house in West Wichita or a 100-year-old mission-style home in College Hill, we can help. Our Fenix Heating and Cooling technicians can service your HVAC system when it needs repair and replace it when you're ready to improve your system.
Another Satisfied Fenix Customer
"If anybody were to ask me who I recommend for heating and cooling services, I would tell them Fenix every time!"
-Gary Sauber, Satisfied Fenix Customer
Contact Us!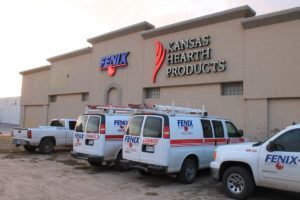 For Heating and Cooling installation or repair, call the pros at Fenix Heating and Cooling in Wichita at (316) 945 4842 or contact us online. We're happy to help you solve your problem over the phone at no cost to you!
By joining the Fenix Protection Plan Service Program, you'll receive some nice benefits, like 20% off all parts and labor and having the peace of mind to know that your HVAC unit is being serviced by the best comfort specialists in Wichita!
Visit our showroom to see all our trusted products on display. You'll also be able the hear the Lennox difference to know what a new system will look AND sound like at your home. We are located at 802 West 2nd St., just across from Wichita's new library.